Schnittpunkt Afrika
Since 2000, a series of events entitled "Schnittpunkt Afrika" has been held (every) year in October, at the beginning of the winter semester.
In the first years, the focus was on various African states; since 2013, topics such as human rights, migration and linguistic diversity have taken over.
After the forced break due to the pandemic, 2020 and 2021, we are pleased to invite all interested parties to this public event again this year.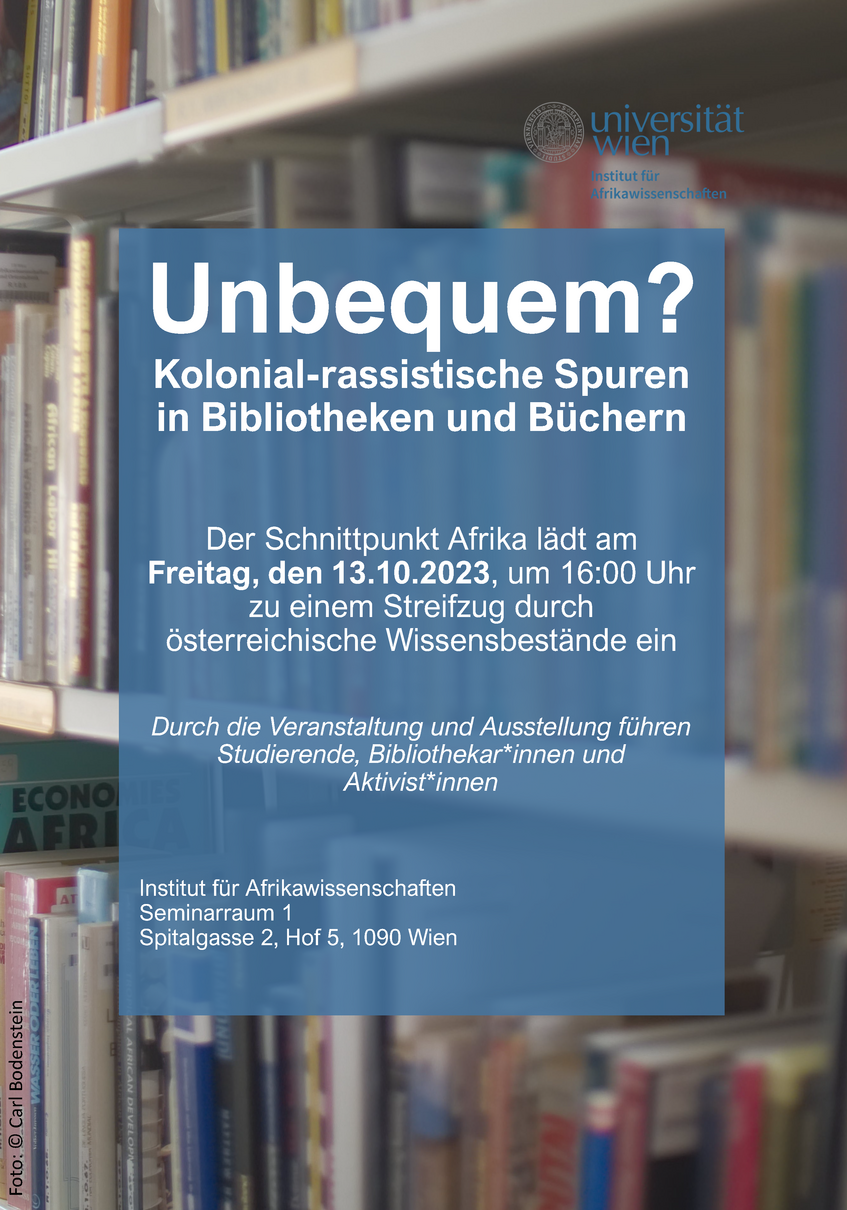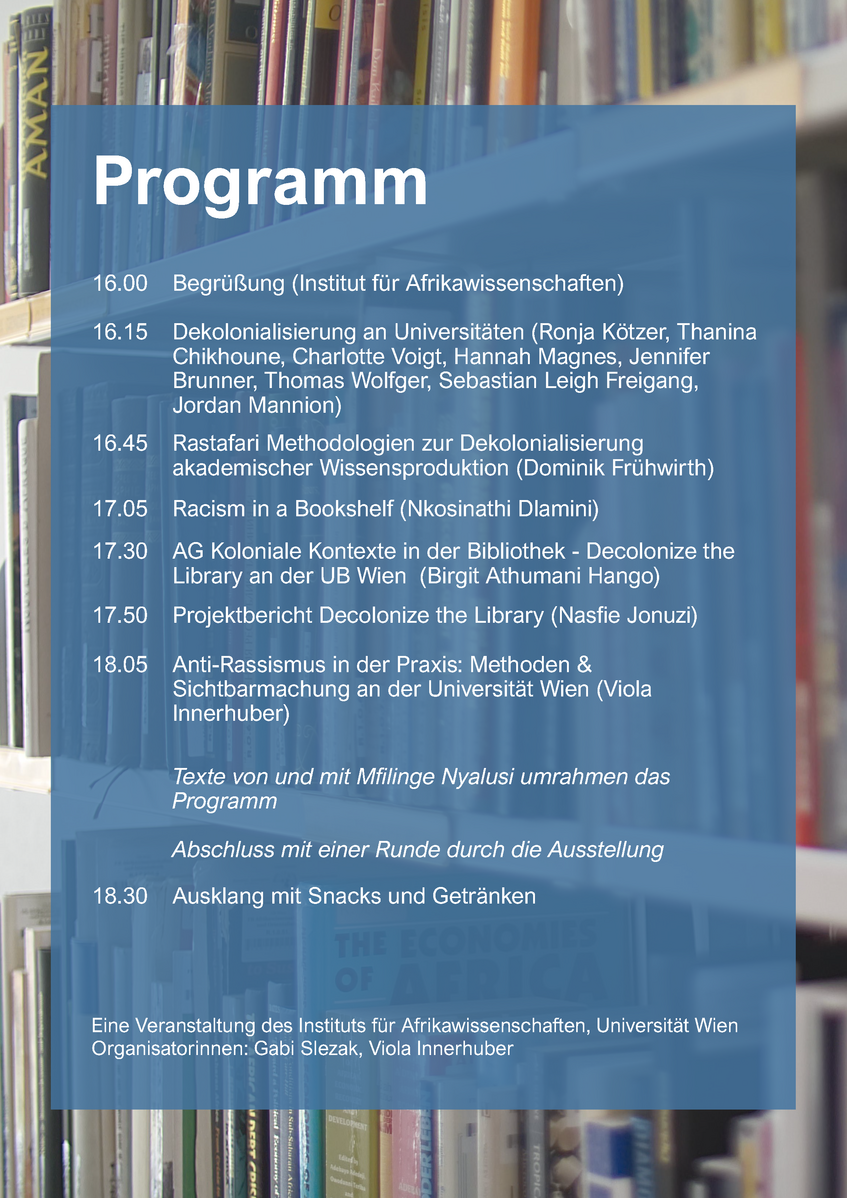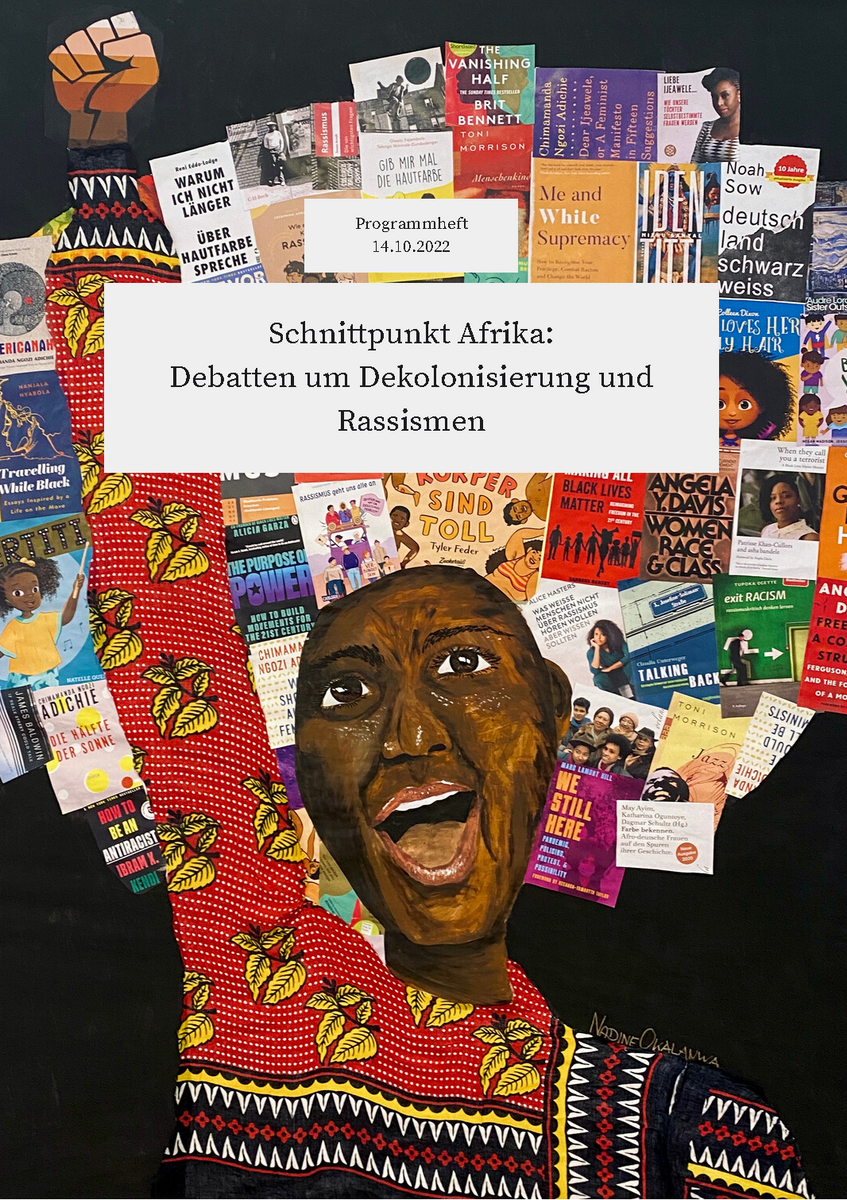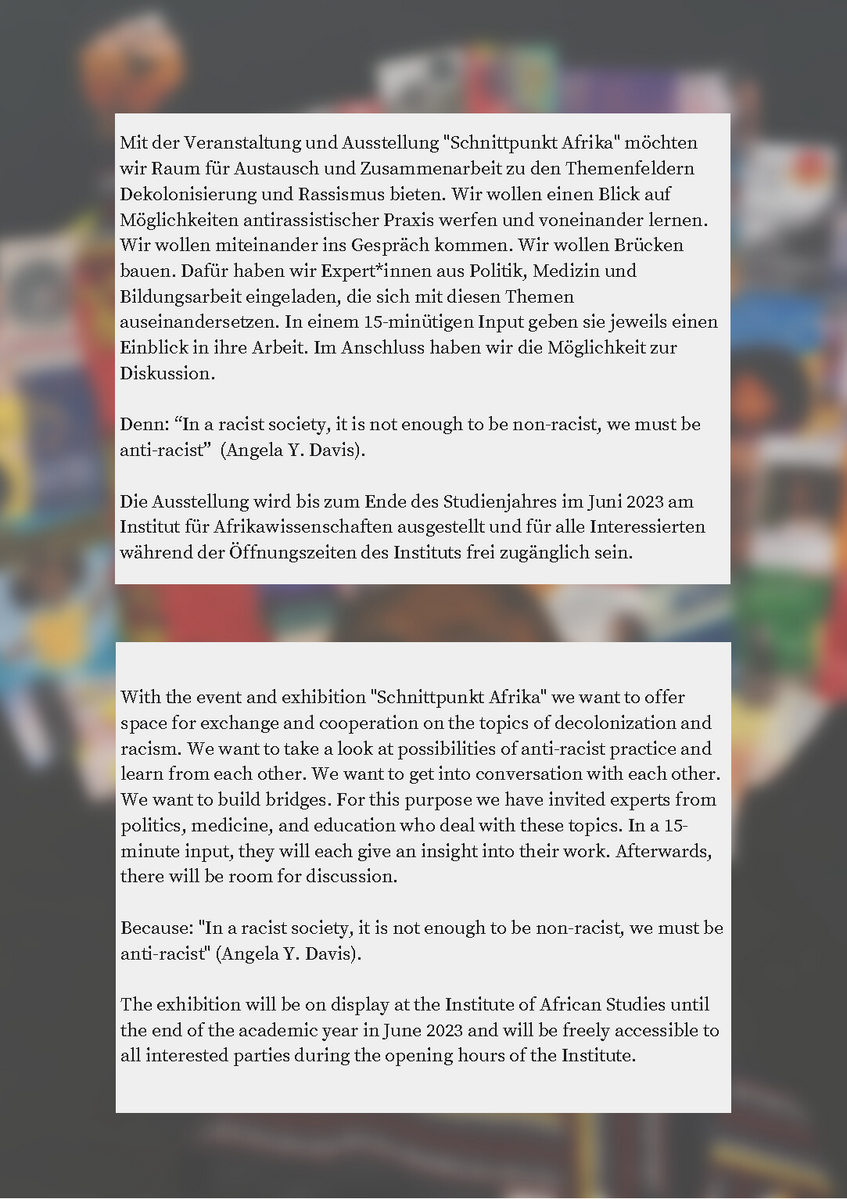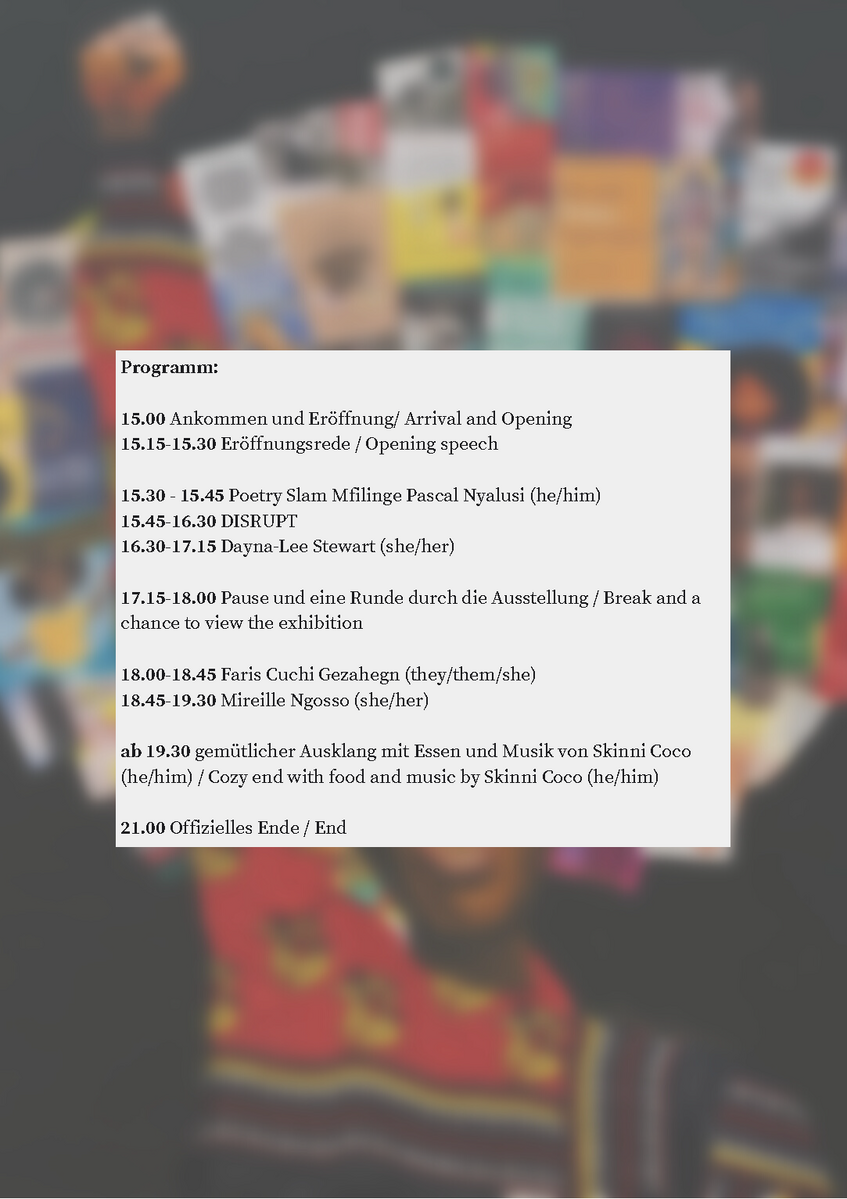 Schnittpunkt Afrika 2019


Visions of Equality. African Realities of Work
Work plays a central role in human existence. At the opening of the exhibition "Visions of Equality. African Realities of Work" we present a combination of academic and creative approaches to uncover a broad spectrum of forms and realities of work in Africa and the African diaspora, many of which have been shaped by the pursuit of equality. Over a period of a century from World War I to the present, and with a view to African initiatives, we discuss struggles to access and shape labour regimes, the fight against injustice and discrimination, and efforts to build a better world across borders and social boundaries.
The exhibition and kick-off event are organized by students and lecturers of a transdisciplinary course on work and labour activism.

Date: Friday, 25th October 2019, 4pm
Venue: Seminarraum 1, Institut für Afrikawissenschaften, Universität Wien, Universitätscampus, Hof 5, Spitalgasse 2, 1090 Wien.
Schedule:
16.00 Opening
16.15 Introduction: Visions of Equality. African Realities of Work (Eric Burton)
16.30 Section I: Yesterday's visions of equality and their relevance today
Tobias Schweiger: "Comintern Universalism. African Labour Activists and the Communist International"
Immanuel Harisch [presented by Eric Burton]: "Intellectuals at Work: Work, Organized Labour and the African Educated Class"
Eric Burton: "A Workers' Paradise? South African Workers, Apartheid Propaganda and Anti-Apartheid Activism". In conversation with Univ. Prof. Walter Sauer about trade unions and Austrian anti-Apartheid activism in the 1980s
Discussion with the audience
17.45 --- Coffee break ---
18.15 Section II: Working across borders
Anna-Maria Planitzer & Isabella Tonn [with support of the artist P. M. T.]: "Integration of Refugees and Asylum-Seekers in the Labor Market in the Unique Case of Uganda"
Markus Platter: "With uniforms on, you won't look like monkeys anymore. Kenyan labour in Chinese-employed infrastructure projects"
Laura Nørlem: "Street traders and the conflict in the Nairobi Central Business District"
Film screening (world premiere): Short-film documentary "Doing the Work of the State"; followed by discussion with director Katharina Zlattinger, main protagonist Mamadou Ndiaye and audience
19.45 --- Food and drinks reception ---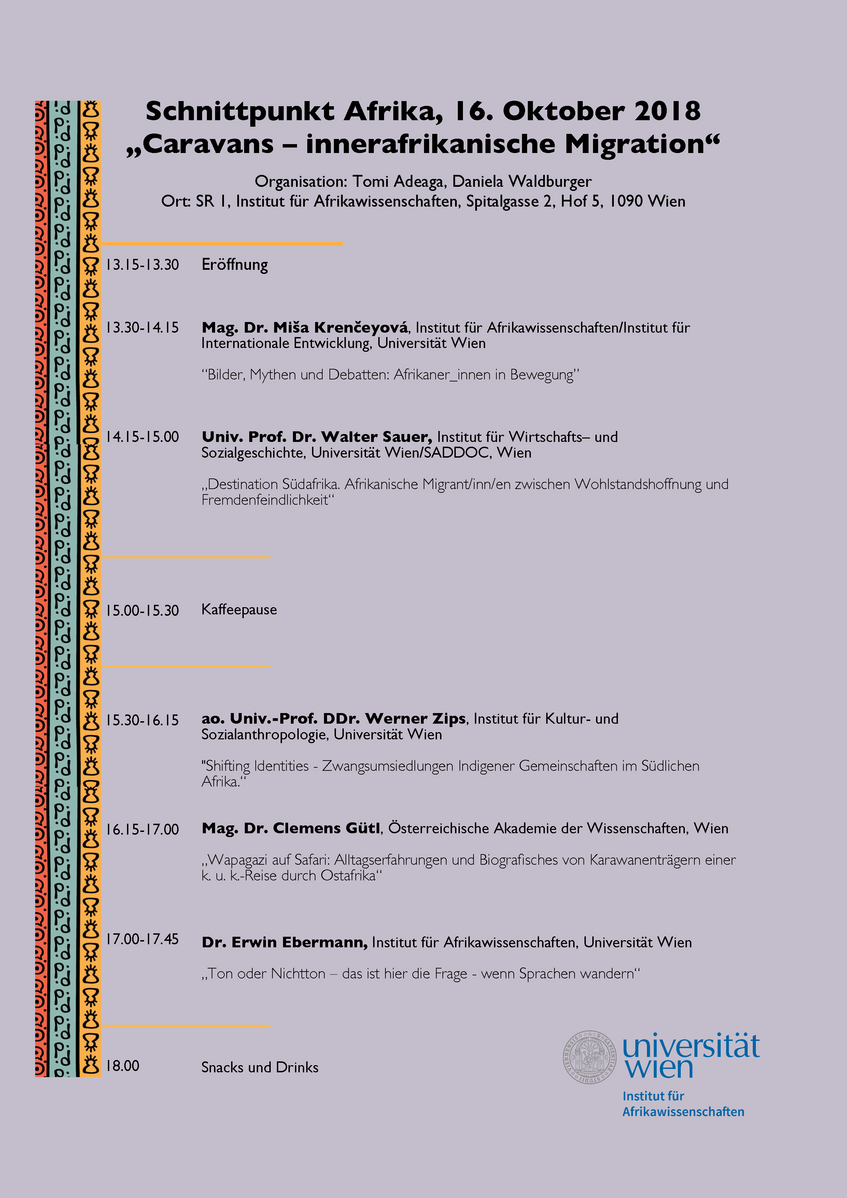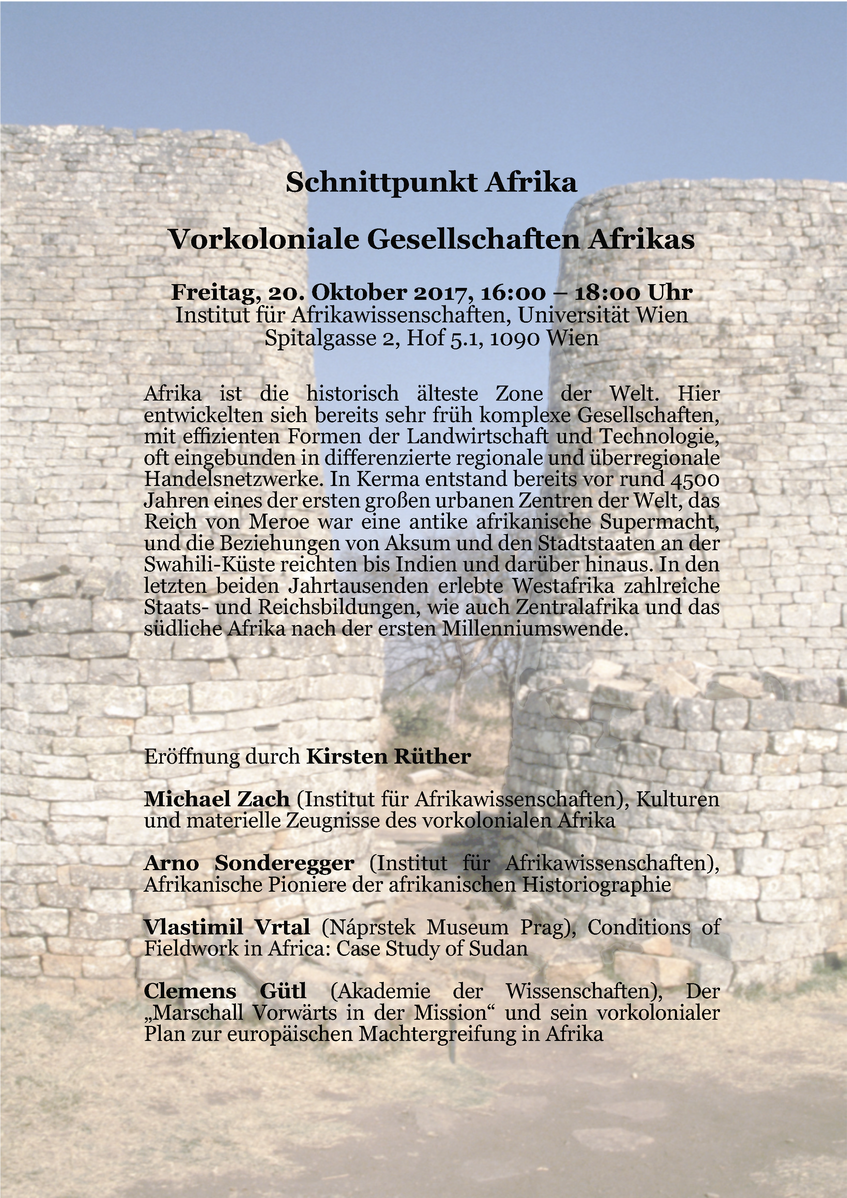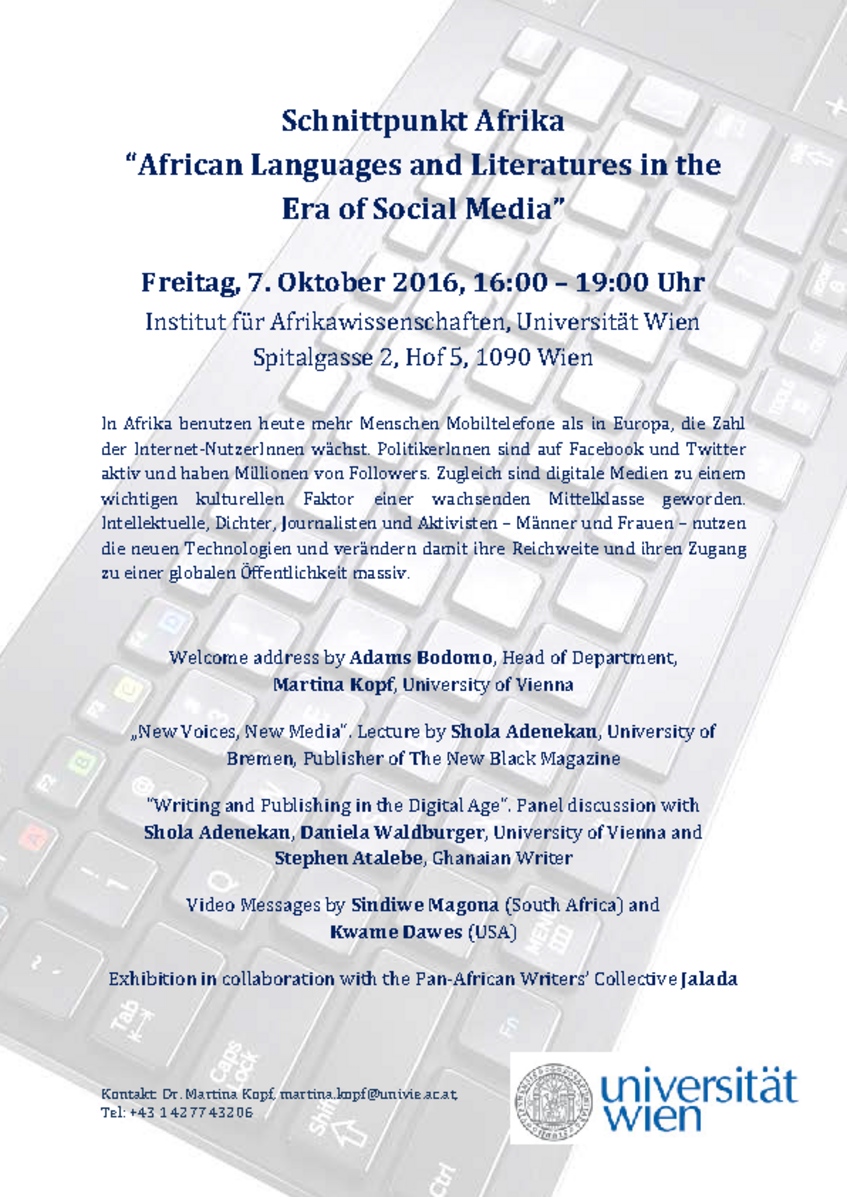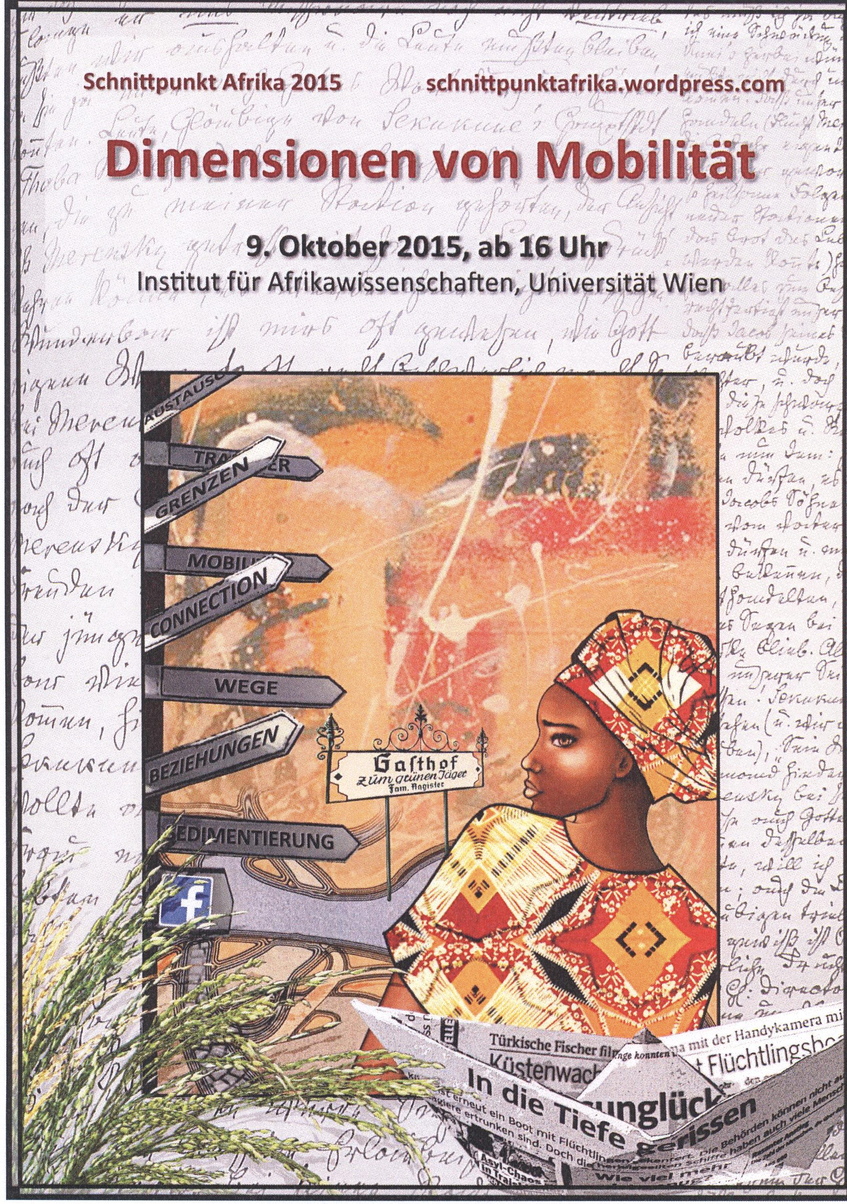 Programm:
16:00 Begrüßung und Einführung (Kirsten Rüther, Birgit Englert)
16:15 Vorstellung des Projekts (Carolin Knoop, Andreas Lampl)
16:30 "Mobilität/Immobilität" – ein Kurzfilm über den tanzanischen Künstler Atakalo Soko (Marion Haberl)
17:00 Podiumsdiskussion zum Thema
"Migration und Medien – gegenwärtige und historische Perspektiven"
unter anderem mit Johanna Adesuwa Reiterer (Verein Exit), Tanja Traxler (Der Standard), Walter Sauer (Uni Wien und SADOCC), Kalim Mugga (aus Uganda nach Österreich über den Landweg gekommen) und Immanuel Harisch (Studierender der Afrikawissenschaften)
Moderation: Rosa Liebe (Studierende der Afrikawissenschaften)
18:30 "Das Entstehen einer Ausstellung – und eines Plakats" (Isabelle Segur-Cabanac) gefolgt von einem Ausstellungsrundgang mit den GestalterInnen
Ab 19:15 Buffet und gemütlicher Ausklang des Abends mit Musik - plaudern, kennenlernen, austauschen…

Hintergrund zur Veranstaltung:
Diese Veranstaltung wurde von Studierenden aus unterschiedlichen Studiengängen im Rahmen von zwei Lehrveranstaltungen am Institut für Afrikawissenschaften der Universität Wien unter der Leitung von Kirsten Rüther und Birgit Englert kuratiert.
Im Laufe eines Semesters wurde eine Ausstellung gestaltet, in der die transdisziplinäre Auseinandersetzung mit Begriffen und Konzeptionen wie Mobilität, Zirkulation, Austausch, Verbindungen/Vernetzungen, Wege/Routen und Diaspora mit Bezug auf Afrika visuell dargestellt wird. Die Breite, Vielfalt und Komplexität dieser Phänomene wird anhand von historischen und gegenwärtigen Prozessen beispielhaft sicht- und erfahrbar gemacht. Wege von Menschen, Waren, Ideen und Objekten innerhalb Afrikas und darüber hinaus werden in einer multimedialen Darstellung nachgezeichnet. Neben einer globalhistorischen Betrachtung wird die Dichotomie sowie Beziehung zwischen Mobilität und Immobilität aufgezeigt.
Die Ausstellung wird im Studienjahr 2015/16 in den Räumlichkeiten des Instituts für Afrikawissenschaften zu sehen sein.
Wir freuen uns auf Ihr/Euer Kommen!
Das Veranstaltungsteam "Schnittpunkt Afrika 2015"
Marion Haberl, Immanuel Harisch, Carolin Knoop, Andreas Lampl, Corinna Leitgeb, Rosa Liebe, Sonja Nechansky, Isabelle Segur-Cabanac, Sonja Steinbauer, mit Birgit Englert und Kirsten Rüther
Mehr Infos zur Veranstaltung auf https://schnittpunktafrika.wordpress.com/
Eine Veranstaltung des Instituts für Afrikawissenschaften (http://afrika.univie.ac.at/) in Kooperation mit der Forschungsplattform "Mobile Kulturen und Gesellschaften" (http://mobilecultures.univie.ac.at/)
Adresse: Institut für Afrikawissenschaften, Seminarraum 1, 1. Stock, rechter Gang, UniCampus Hof 5, Spitalgasse 2, 1090 Wien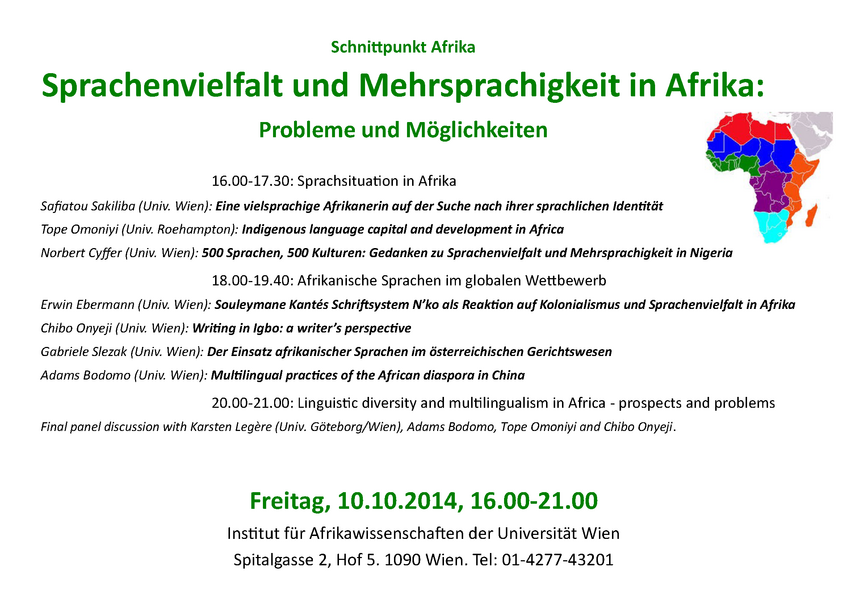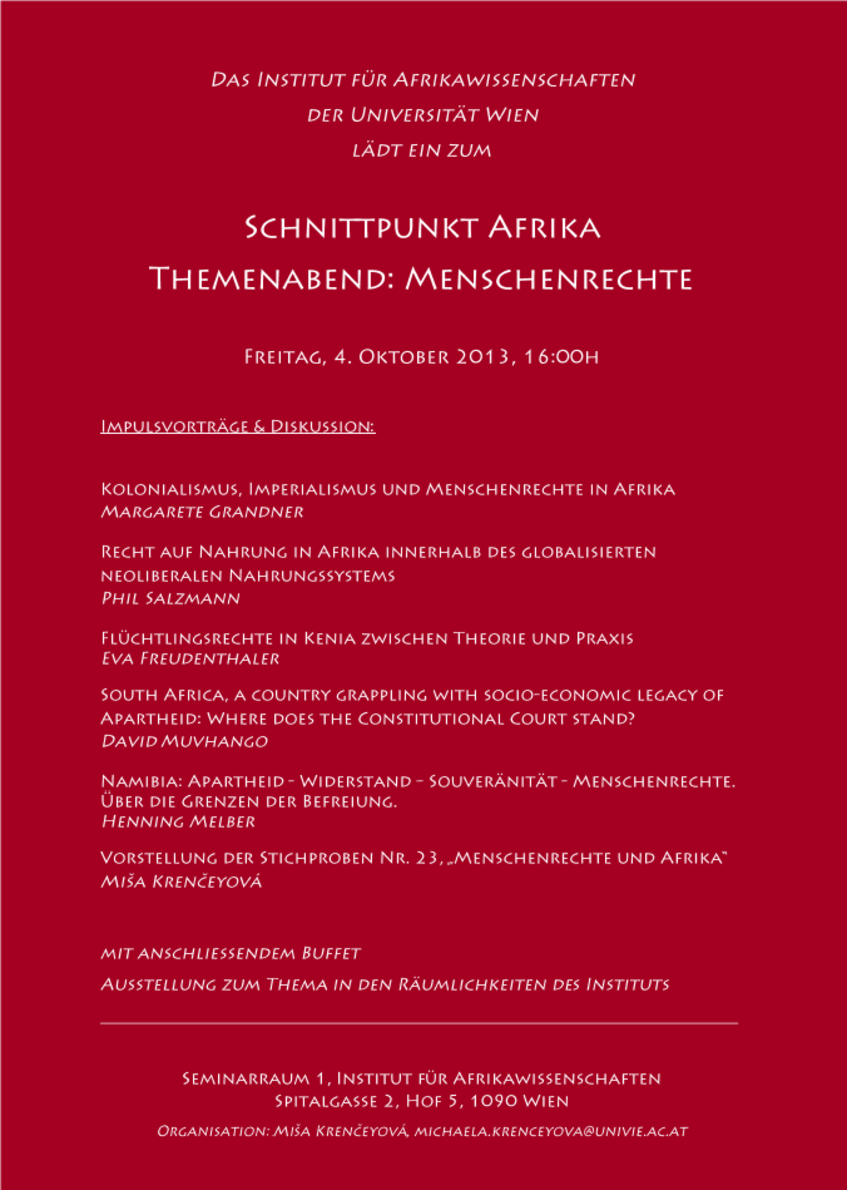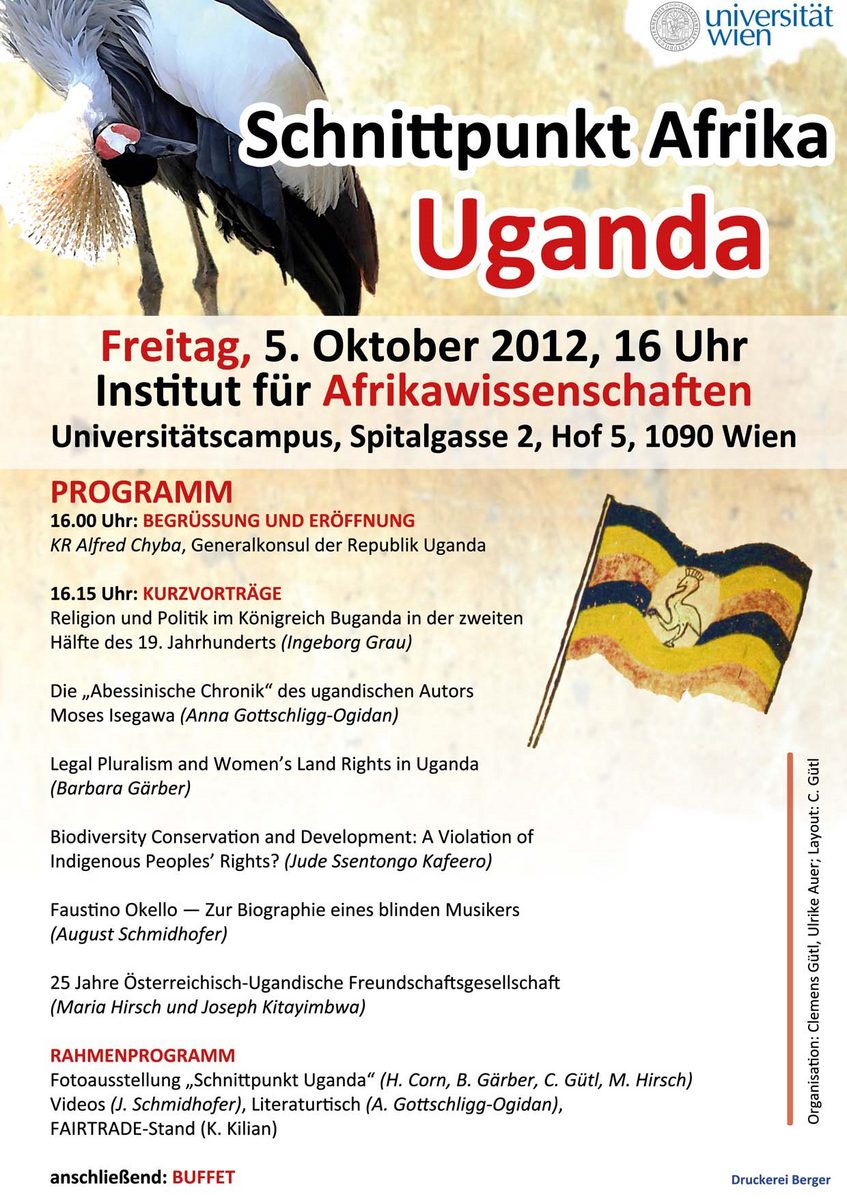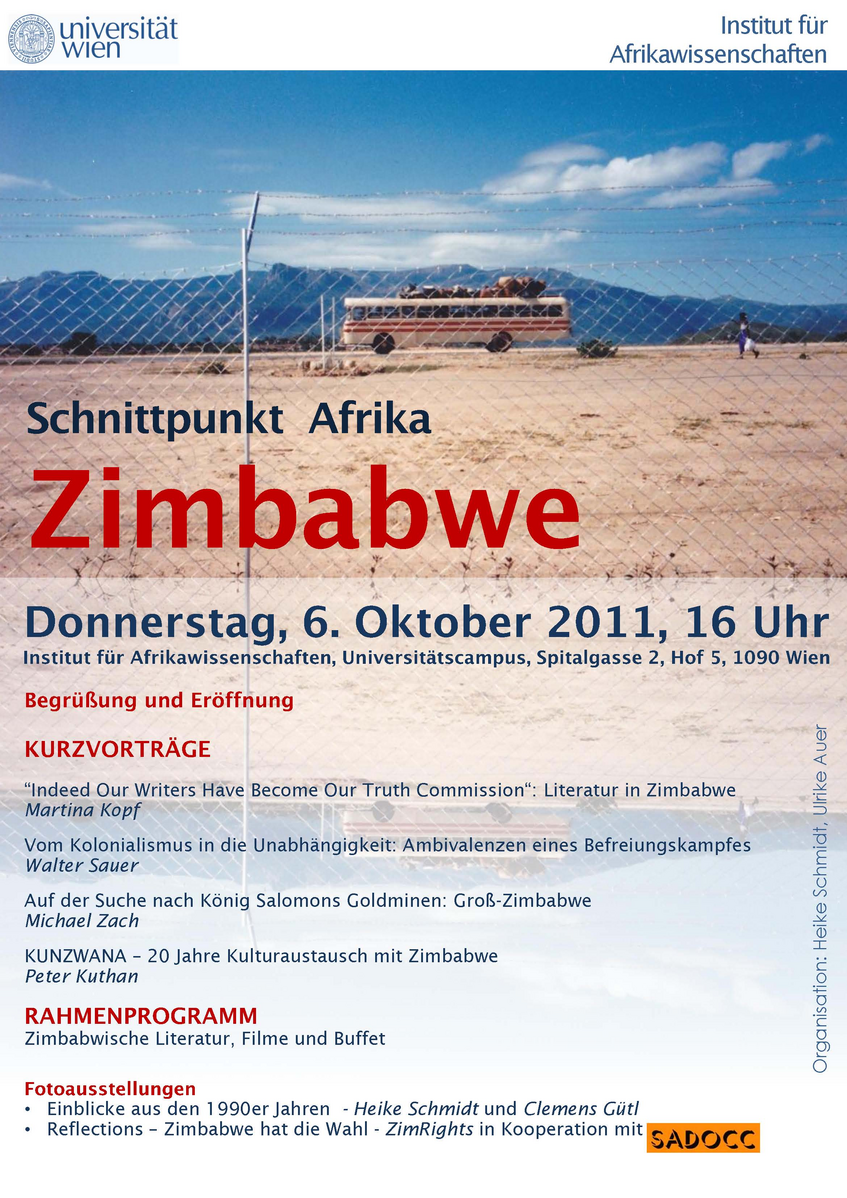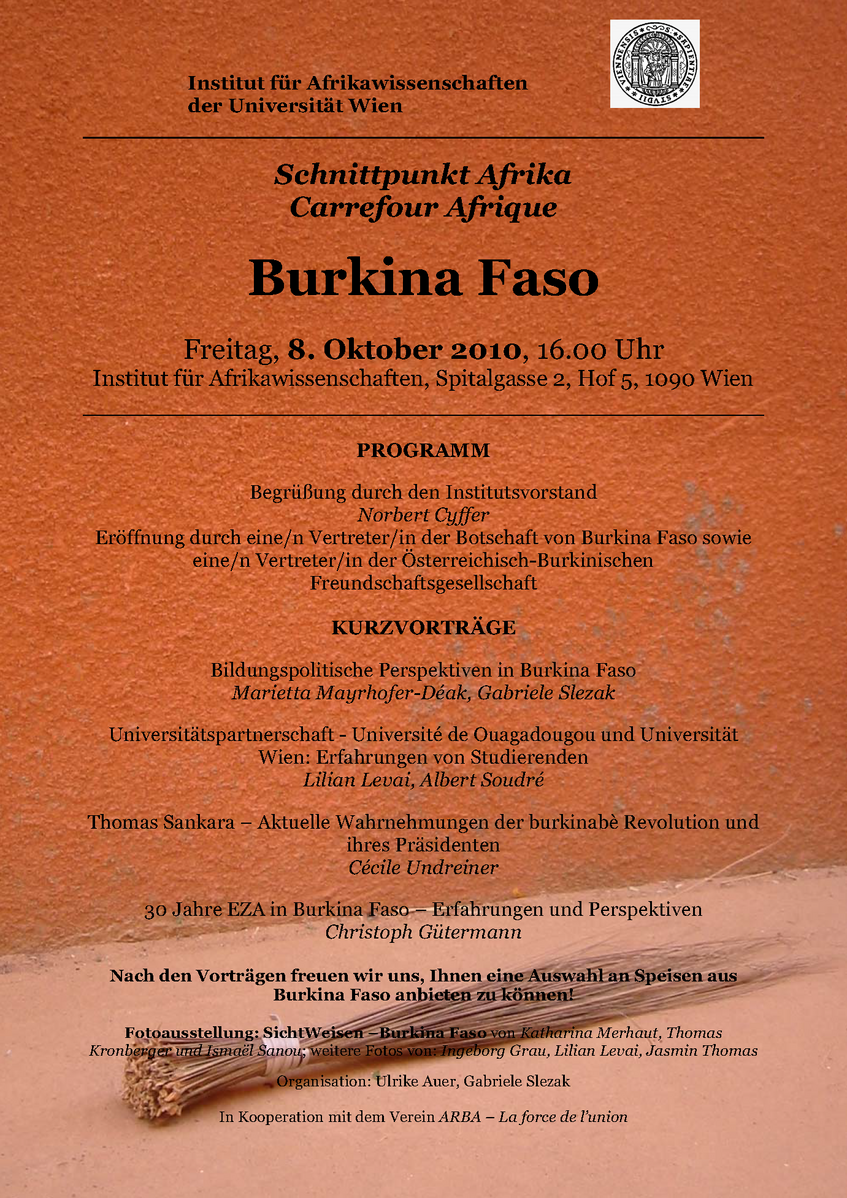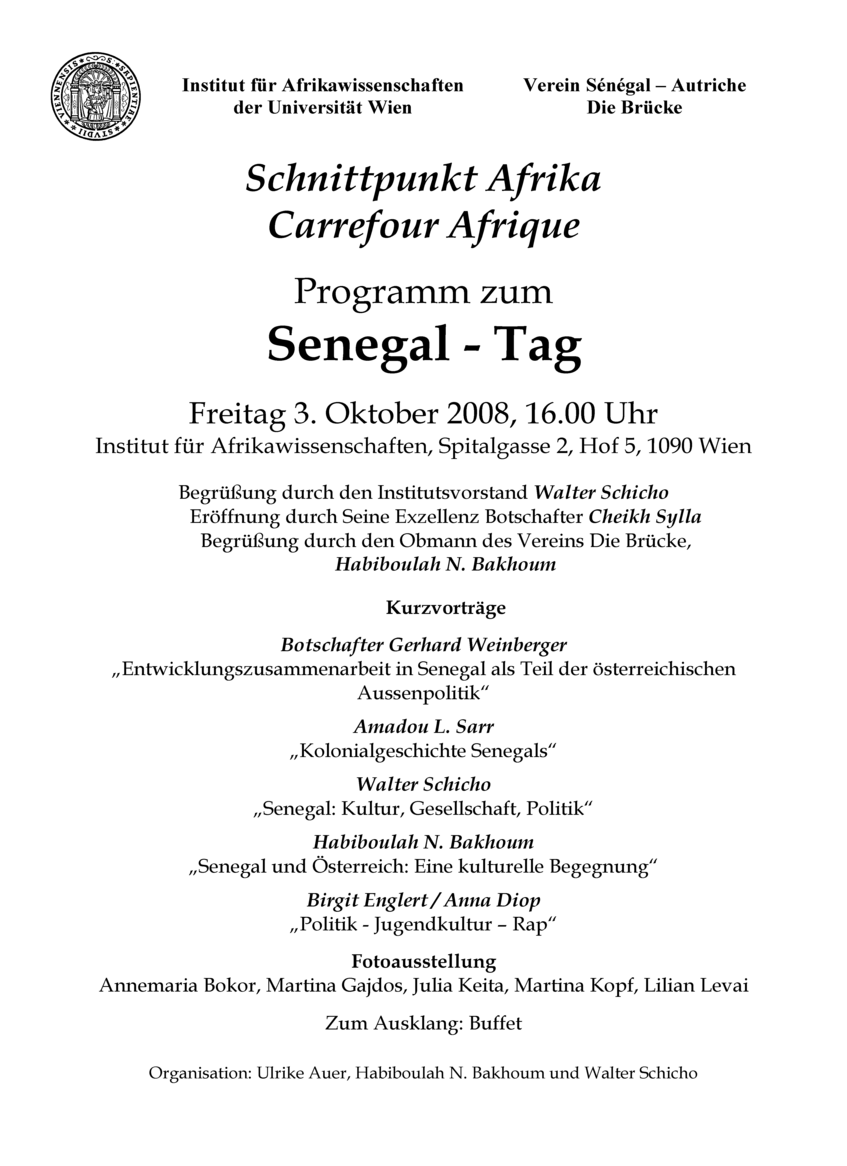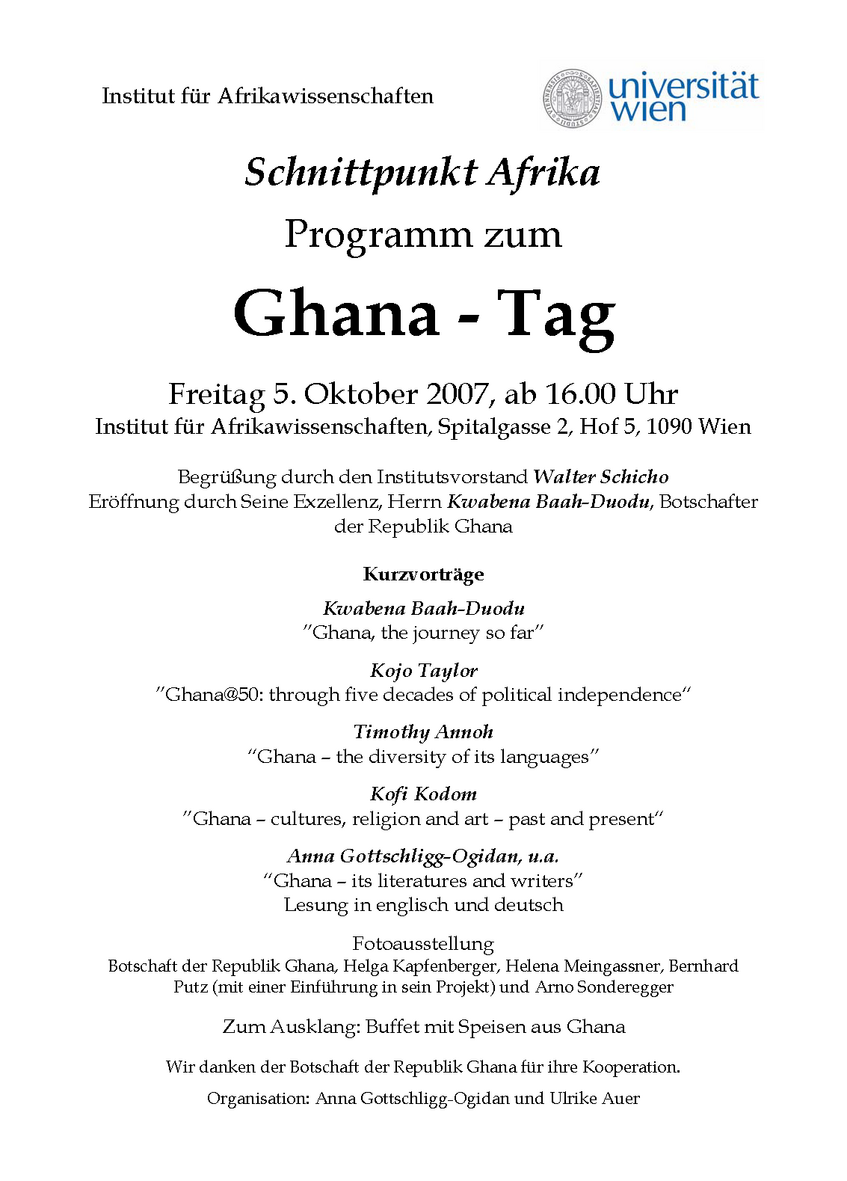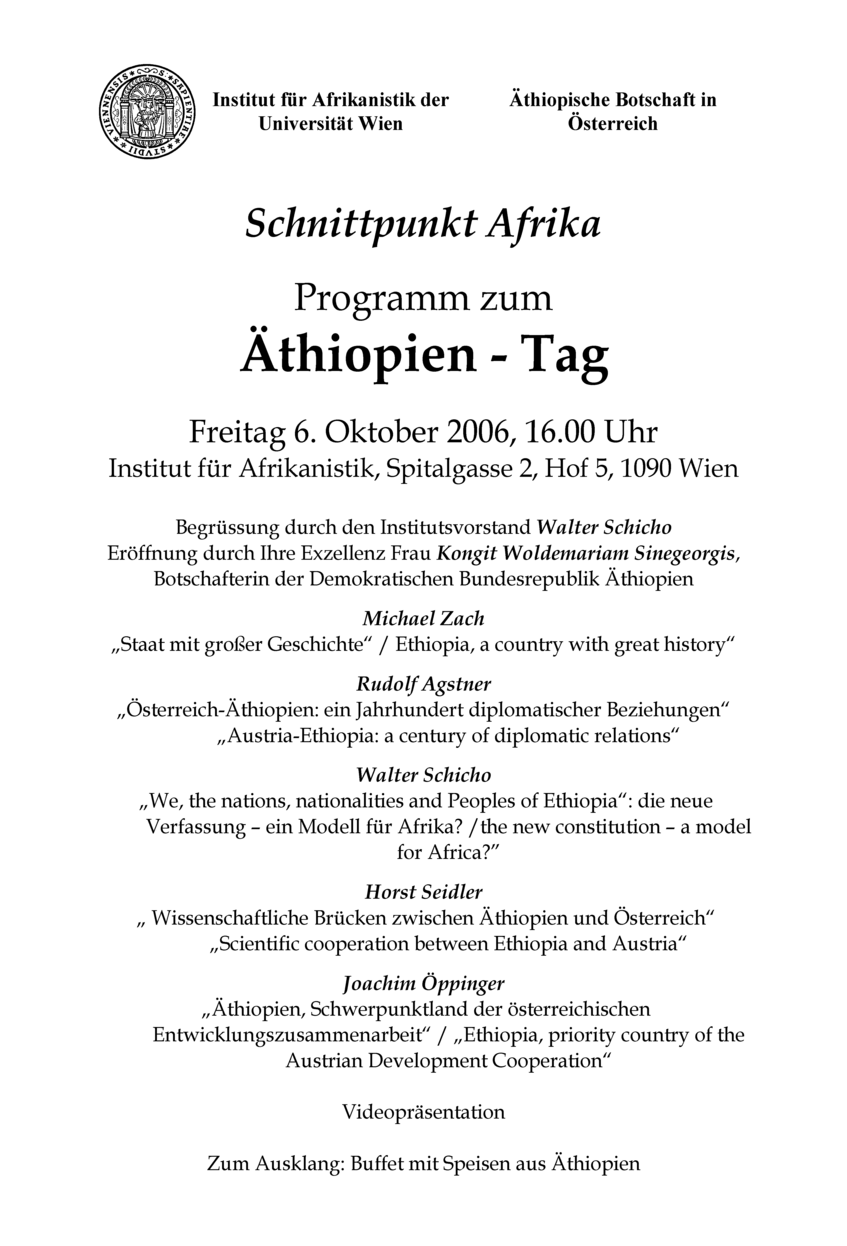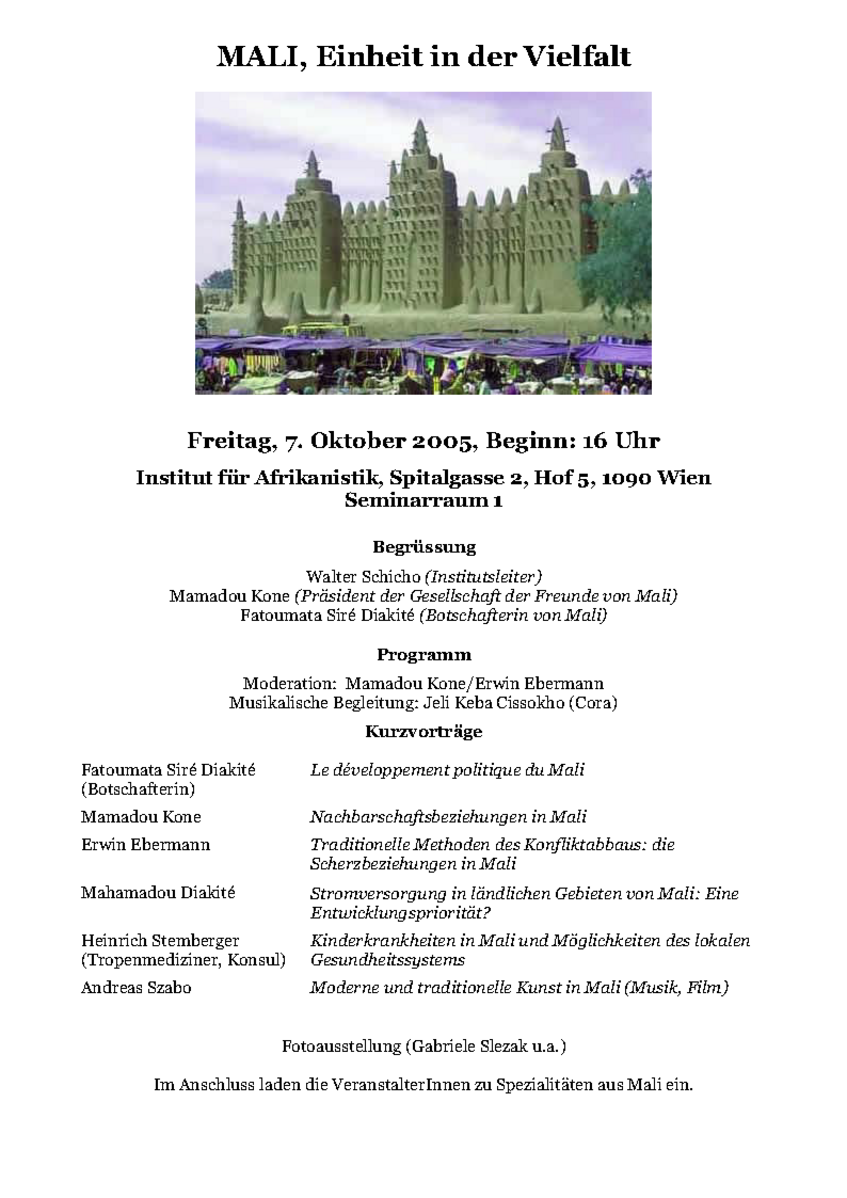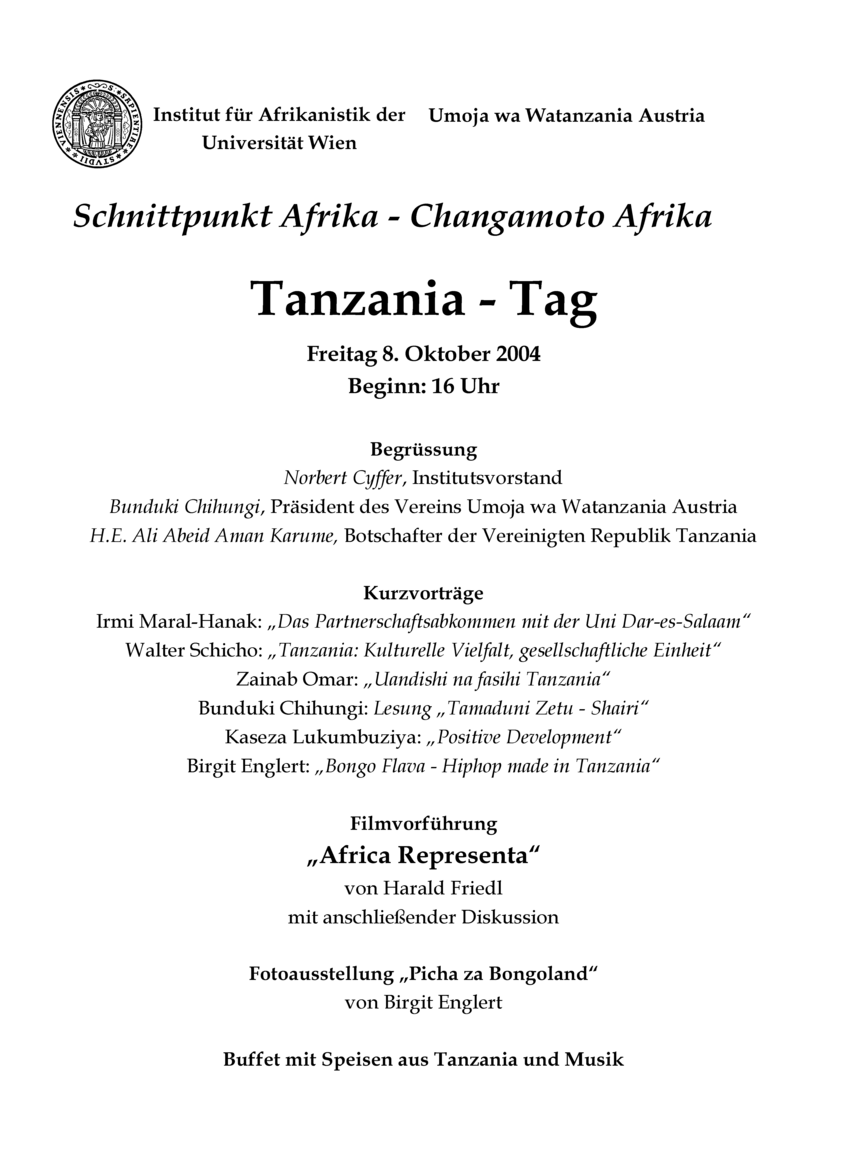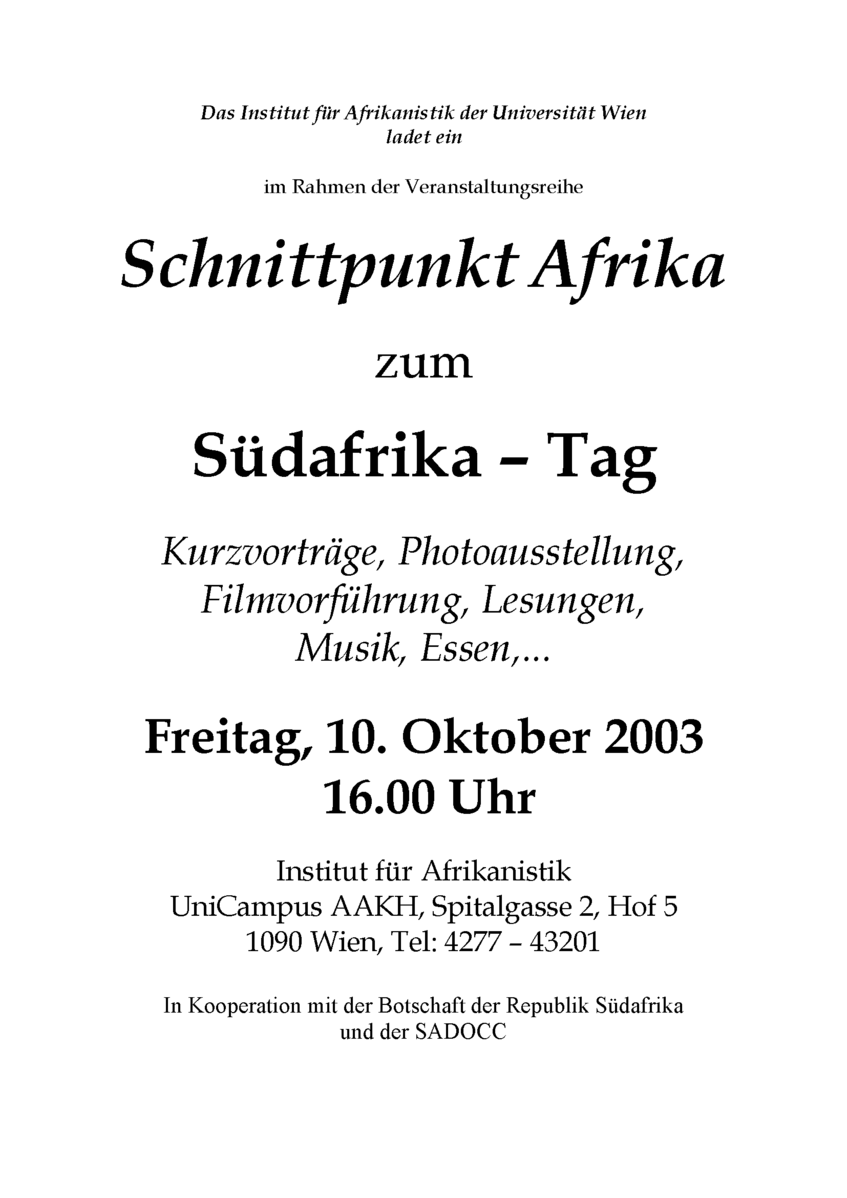 Programm
16.00-16.15: Einleitung und Begrüßung
(Norbert Cyffer)
16.15-16.30: Ansprache von S.E. Prof. Alfred Tokollo Moleah, Botschafter der Republik Südafrika
16.30-17.00: "Sind Sie ein Kaminfeger? "Personalentwicklung" im Trappistenkloster Mariannhill"
(Clemens Gütl)
17.00-17.30: Filmvorführung: "Apartheid's Last Stand" (1998)
Pause
18.00-18.30: "Johannesburg – vom Goldgräbercamp zur kommunalen Transformation"
(Walter Sauer)
18.30-19.00: "Is English the solution for South Africa?"
(John Rennison)
19.00-19.30: Lesung von Gedichten
(Lisa Ndokwu)
anschließend Buffet
Wir danken der Botschaft der Republik Südafrika und der SADOCC für Ihre Kooperation und Unterstützung.
Organisation: Birgit Englert und Ulrike Auer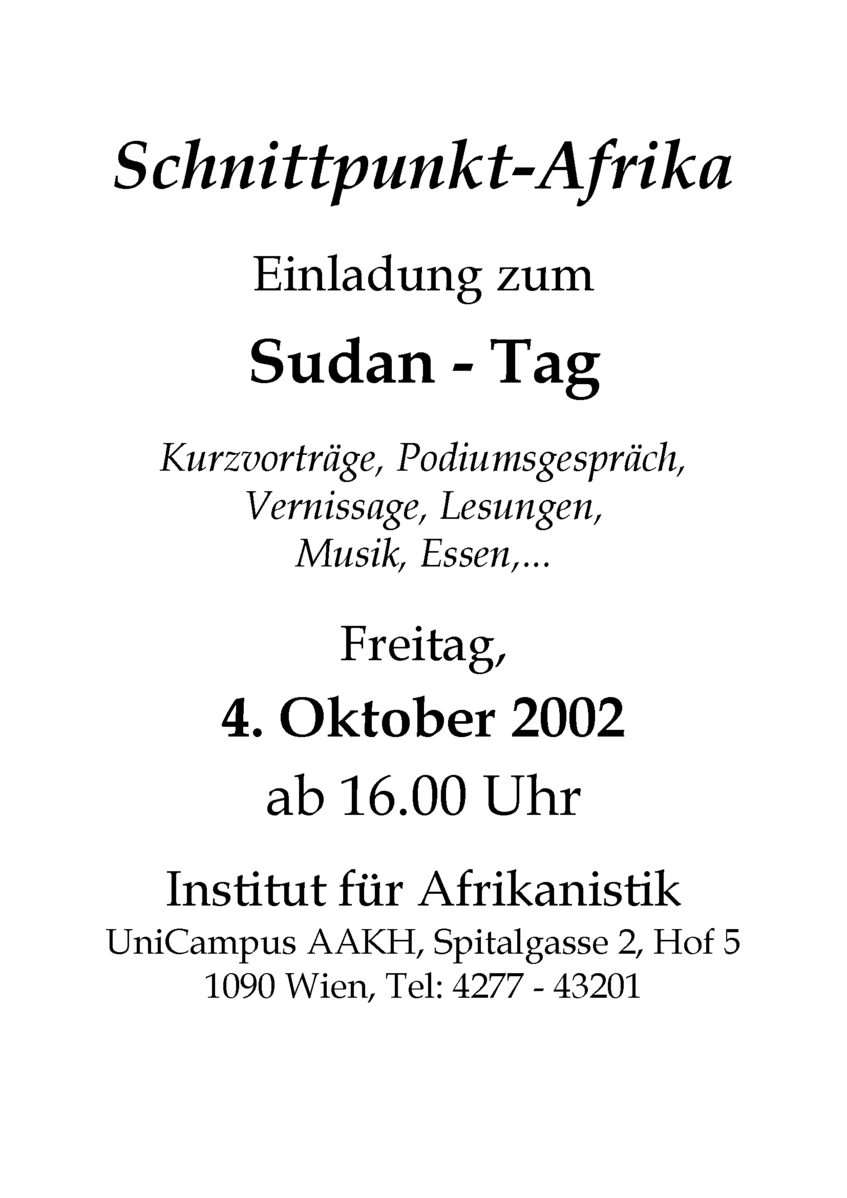 Programm
16.00-16.15: Einleitung und Begrüßung (Norbert Cyffer / Michael Zach)
16.15-16.30: Ansprache von S.E. A. Ghaffar A. Hassan, Botschafter der Republik Sudan
16.30-16.55: Kusch: das Reich der schwarzen Pharaonen (Michael Zach)
16.55-17.05: "Große Dinge begeben sich im Sudan". Der Sudan in der österreichischen Reiseliteratur (Lesung Harald Pichlhöfer)
17.05-17.30: Der Sudan und Österreich: 2 Jahrhunderte enger Beziehungen (Michael Zach)
17.30-17.40: Lesung von Tarek Eltayeb
anschließend Buffet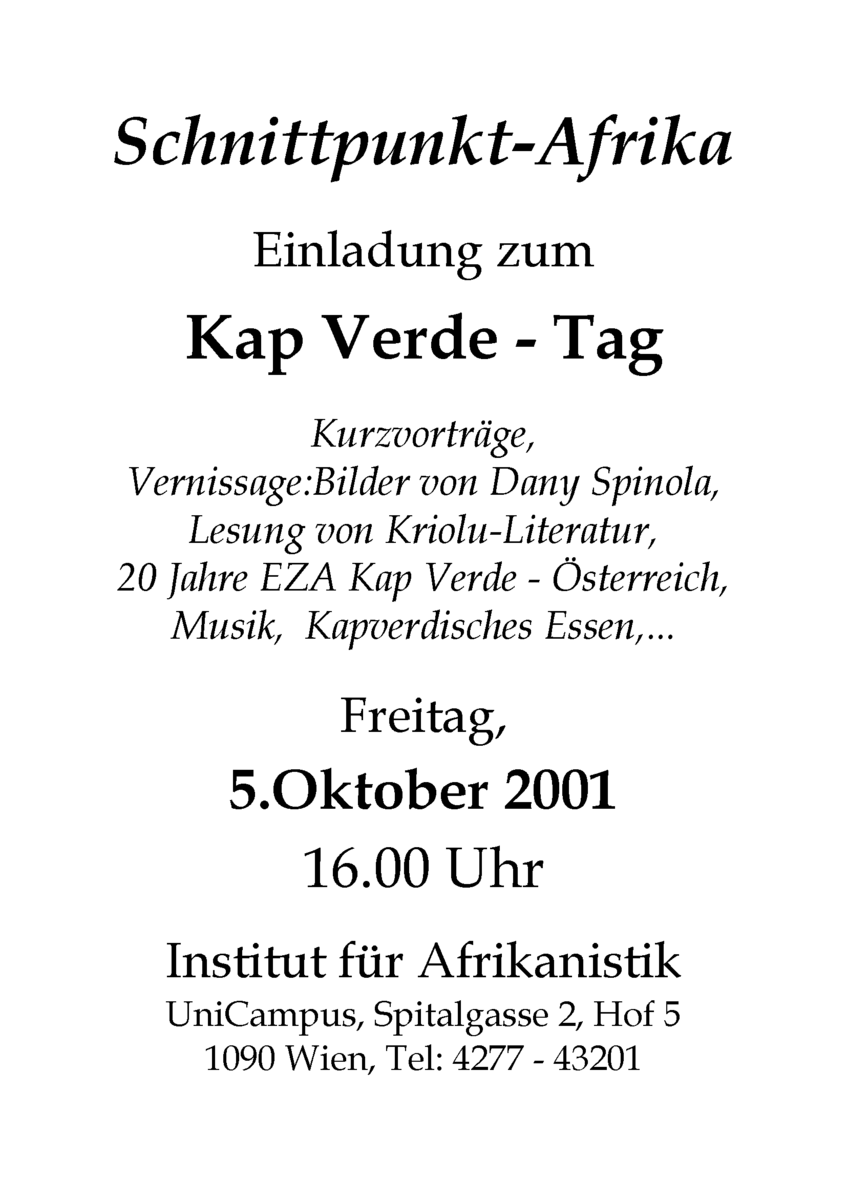 Programm
16:00 Uhr:
Begrüssung Norbert Cyffer
Eröffnung: Kapverdische Botschaft
Kurzvortrag Walter Schicho: Kap Verde - "über und unter dem Wind"
Kurzvortrag Bea Gomes und Richard Köppl:Kap Verde - Sprache und Identität
Lesung Dany Spinola: Kriolu-Dichtung - "Meine Dichtung ist meine Malerei, meine Malerei ist meine Dichtung"
17:00 Uhr: 20 Jahre kapverdische - österreichische Beziehungen im Rahmen der EZA: VetreterInnen von staatlichen und nichtstaatlichen Entwicklungsorganisationen, der Universität Wien und der Botschaft von Kap Verde im Gespräch
anschliessend Buffet mit Katxupa und anderen Köstlichkeiten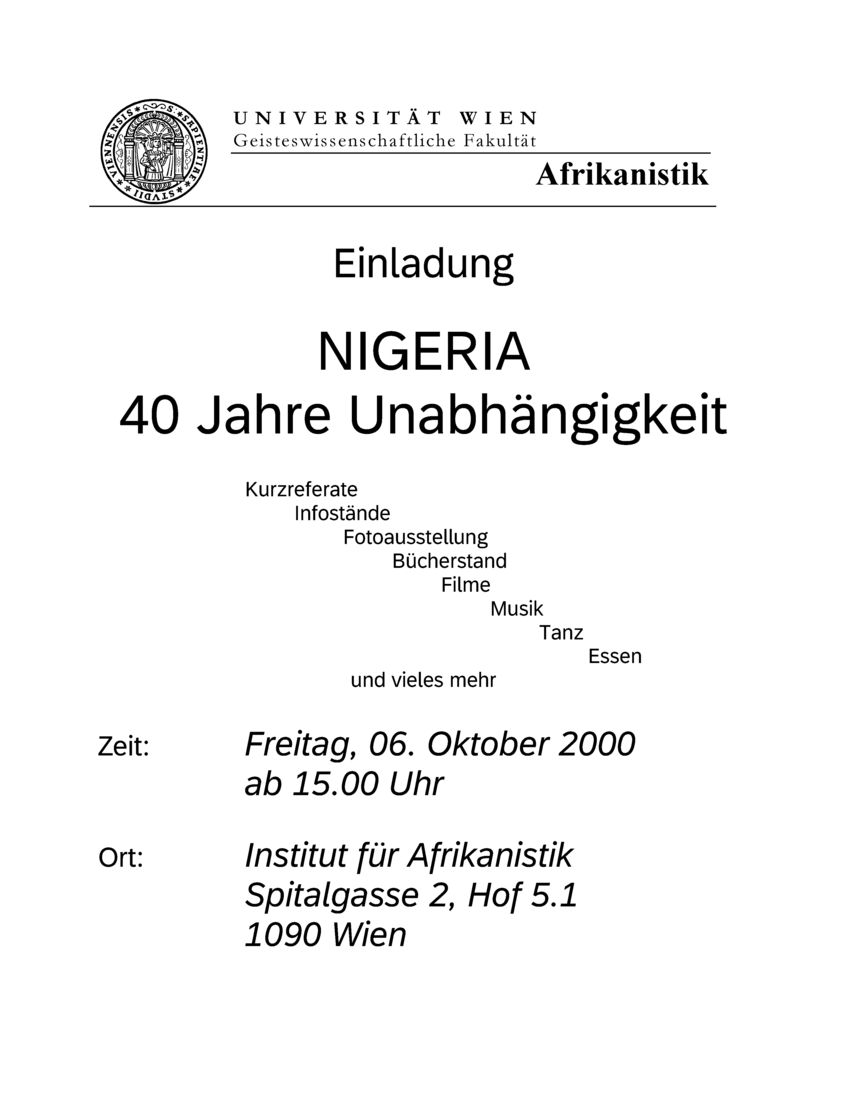 PROGRAMM:
15.00 Uhr
Eröffnung durch den Vorstand, Prof. Dr. Norbert Cyffer
15.15 Uhr
Begrüssung durch den nigerianischen Botschafter, Seine Exzellenz Mr. Abdul Bin Rimdap
15.30 Uhr
Zur Geschichte Nigerias, Dr. Ingeborg Grau
Thema: Frühe Kulturen in Nigeria - Dias von Nok, Igbo Ukwu, Ife, Benin
Zur Geschichte Nigerias, Prof. Christian Mährdel
Thema: Staatssouveränität und Aufbrüche in den Geschichtswissenschaften Nigerias (in den 50er und 60er Jahren)
16.15 Uhr
Zu den Sprachen Nigerias, Prof. Norbert Cyffer
Thema: Sprache und Sprachen in Nigeria
16.45 Uhr
Zur Literatur Nigerias, Dr. Anna Gottschligg-Ogidan
Thema: Literaturen in nigerianischen Sprachen und Schriftliteratur in englisch.
Anschliessend Filmvorführung 'Wole Soyinka' Nobelpreisträger Literatur (40min) und Eröffnung des Buffets
Filmvorführungen, Musik, Bücherstände,....