Current third-party-funded projects
Project titel:

Summer School "Spaces for Future: Processes of Rural and Urban Transformation in Southern Africa"
Project sponsor: Volkswagen Stiftung Programme "Knowledge for Tomorrow - Cooperative Research Projects in Sub-Saharan Africa"
Project funds: 49.900 Euro
Project participants:
Prof Reimer Gronemeyer, Institute of Sociology, Justus-Liebig-University Gießen
Dr Carmen Ludwig, Institute of Sociology, Justus-Liebig-University Gießen
Prof Mutjinde Katjiua, Head of Department of Land and Property Science, Namibia University of Science and Technology (NUST)
Dr Lameck Mwewa, Agriculture and Natural Resources Sciences, Namibia University of Science and Technology (NUST)
Prof Kirsten Rüther, History, African Studies Department, University of Vienna
Prof Antje Daniel, Development Studies, Institute of Development Studies, University of Vienna
The summer school aims at offering an interdisciplinary space for scientists coming from the humanities, social sciences and natural sciences in order to get an comprehensive understanding of rural-urban relations and recent challenges of migration and climate change.
Countries in Southern Africa are in the process of a major transition from rural to urban-based societies. As estimated by the UN, 77 percent of the population in Southern Africa will live in urban areas by the middle of this century. These developments increase the already existing challenges in the provision of urban infrastructure, transportation, social services and housing. It furthermore raises questions on the development of social and spatial inequalities that follow in the wake of the expansion of urban centres.
On the other hand, land reforms to overcome the strains of apartheid and colonialism and to address its spatial structures of inequality remains one of the most pressing issues in Southern Africa. The unresolved land question in rural and urban spaces significantly impacts societies' capacities for cohesion or severe social conflict.
While research mostly either focusses on rural or urban challenges the summer school seeks to interrogate the dynamics of change by combining the rural and urban studies for a new understanding and will address the following questions:
In which ways are processes of transformation between rural and urban spaces interconnected and shape each other?
Who are relevant agents of transformation processes and resistance?
In which ways can the future of urban and rural areas be imagined in new ways or by learning from past concepts and experiences?
Two important dimensions - climate change and migration - identified as particularly influential in shaping the dynamics of rural-urban transformation in Southern Africa will provide a useful analytical lens to analyse rural-urban-transformation processes and its interrelations.
Project title:
"Concepts of development in postcolonial Kenyan literature"
Project sponsor: FWF - Fonds zur Förderung der wissenschaftlichen Forschung - Elise-Richter-Stipendium

Project manager: Martina Kopf
Project duration: 01.07.2017-30.06.2021

Project funds: 269.474,94 Euro
Project homepage: https://kenyan-literature.univie.ac.at/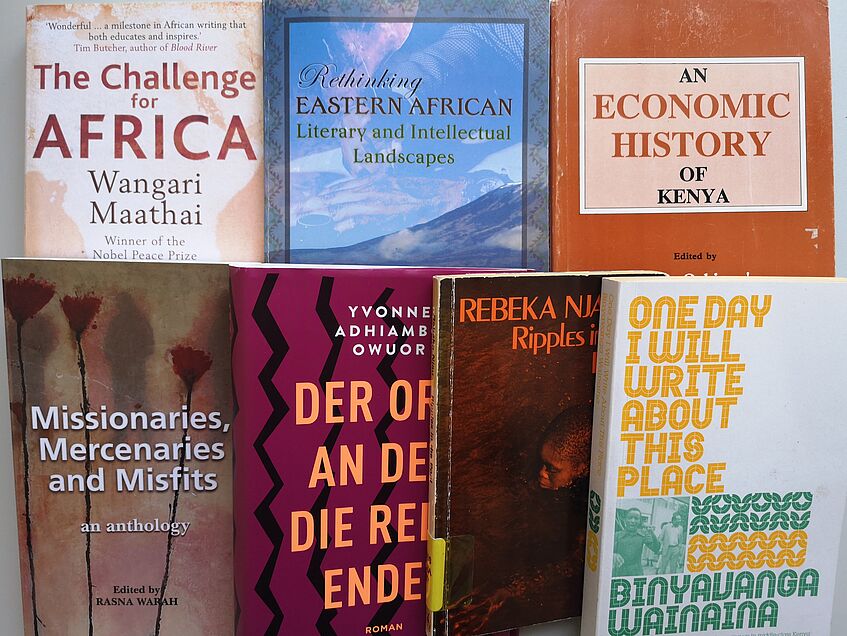 Project title:
"PhD Programme Cultural Mobility Studies" (doc.funds)


Short title: "Cultural Mobility Studies"

Project sponsor: FWF - Fonds zur Förderung der wissenschaftlichen Forschung
Project number: Doc56-G30

Project manager: Kirsten Rüther (01.07.2019 - 28.02.2021)
Principal investigators: Pelz, Annegret; Ganser-Blumenau, Alexandra; Rüther, Kirsten; Sakdapolrak, Patrick; Macho, Thomas; Sauer, Birgit; Dannecker, Petra.

with 7 prae-doc posts.

Project collaborator: Daniela Atanasova (Department of African Studies)
Project duration: 01.10.2019-30.09.2023
Project funds: 1.331.836,48 Euro

Project website: http://mobilecultures.univie.ac.at
Project title:
"Research Platform: Mobile Cultures and Societies."
Project sponsor: Universität Wien - University of Vienna

Project manager: Kirsten Rüther (01.07.2019 - 28.02.2021)
Second manager: Birgit Englert(01.07.2019 - 28.02.2021)
Project collaborators: Immanuel Harisch (Department of African Studies), Sigrid Thomson (Department of Comparative Literature)
Key Researcher: Kirsten Rüther, Birgit Englert
Project duration: 01.12.2018-30.09.2023
Project funds: 349.000,00 Euro
Project website: http://mobilecultures.univie.ac.at/en/