Studies Service Unit of the Directorate of Studies 14
Study Service Unit (SSS) of the Directorate of Studies (SPL) 14
Ms. Monika Baumgartner
Ms. Doris Ruzic

Responsible for: entry of grades, submission of records of examination for Bachelor's and Master's degrees, recognition, course directory,etc.
Tel.: 4277-45117
E-mail: service.spl14@univie.ac.at
Study Service Center "SIAMOS"
University Campus
Spitalgasse 2, court 1, entry 1.17
1090 Vienna
Consultation hours are available in individual cases by prior arrangement via e-mail.
!!! Please note that as of August 8, 2022, the StudienServiceStelle will only be available Monday through Wednesday. Thursday and Friday is closed !!!
Reachabilities:
Monday: 08:00-15:00
Tuesday: 08:00-15:00
Wednesday: 08:00-13:00
Please keep in mind that any e-mail correspondence may only be maintained between u:net-addresses (astudentIDnumber@unet.univie.ac.at). Enquiries made through other e-mail accounts may not be processed.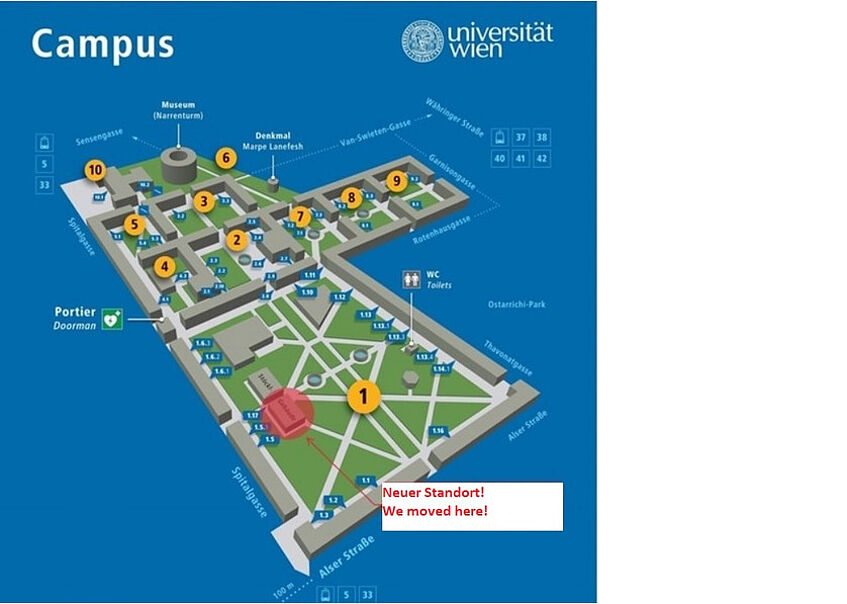 Studies Service Center (SSC)
Studies Service Center of the Faculty of Philological and Cultural Studies (SSC)
Homepage: http://ssc-philkultur.univie.ac.at

1090 Wien, Spitalgasse 2, court 2
Oppening hours:
Tue + Wed 10 am - 12.00 noon
Thu 2.00 - 4.00 pm
Telephone hours:
Mo + Thu 10.00 am – 12.00 noon
Tue + Wed 1.30 - 3 pm

Tel.: 01/4277 extension 45101, 45102, 45105 or 45106